09-03 coordinate to coordinate ?>
09-03 coordinate to coordinate
This morning horror & sweat between the flames was one of the worst so far!!!!
When I sawlast night this burning fieldsm I knew that they were nothing else to be burn here & and I decided to camp. What I didn't knew was that the farmers didn't had burnedyet burned all the fields arround and that this were theirfirst morning priorities!!
I woke up trapped & surrounded by the flames! Pushing and trying to save my bike….!
Over confidence is a bad thing my dear friends…..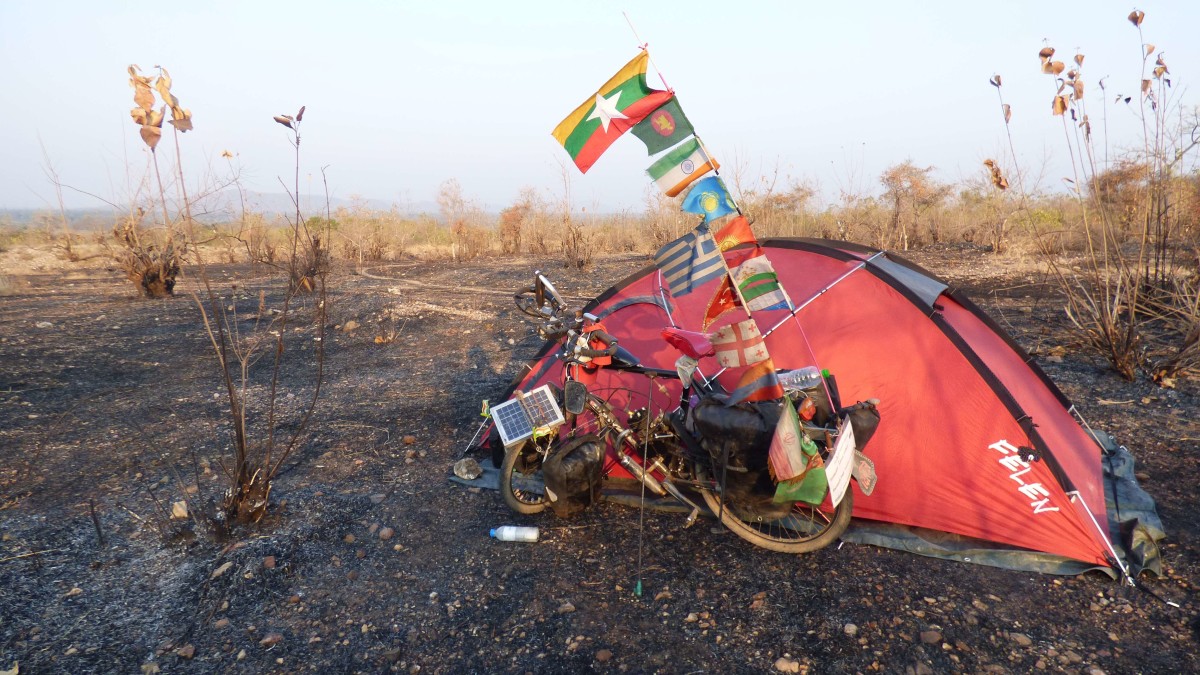 You can see in the pic above the construction work of woman! Yes thats right!
In this country, the roads are build by womans….That including carrying gravel rocks all day…
This plantations are a form of cactus that is use very commonly in food around here…It has a little biter taste and jelly texture…
You will not believe this but this guy and his girl friend were cycling with me for one day in Tajikistan and here they are again!…i Couldn't believe the luck we had after so many months…. 
I love Myanmar people….! This doctor wrote his name in Burmese and put the Dr. at the begining to notify of his proud status…
Here is the production site of gravels for the road. Big stones are dropped by woman above, hammered by the machine and collected to be carried by hand to the trucks…
A\i love the sighting of beautiful Pagodas…
I took a turn right from the highway in order to find a nice place to put my tent…This is a pic of the village before my camping site.
Bicycle tour
Cycle tour
Nomad cyclists
Nomad cyclist
Around the world on a bike
Around the world on a bicycle
cycling around the world
Traveling by bicycle
Water project Asia
Water project Africa
Water project donation
Bicycle water project